TCT Asia
Event overview
When:

Aug 31, 2022 7:00 AM CET - Sep 2, 2022 3:00 PM CET

Where:

Shenzhen, China

Remember:

Add to calendar
Meet Sandvik at TCT Asia in Shenzhen, China in May 2022.
TCT Asia was held for the first time in 2015 and has grown to become one of the world's largest exhibitions on additive manufacturing technology. This year, TCT Asia is held in Shenzhen, China. Welcoming experts from around the world, the event is centered around additive manufacturing, engineering technology and design – offering three full days of insights, education and innovation.
Visit us in booth Q71 to discuss your needs and challenges with our experts in metal powder and additive manufacturing.
Read the full program and register to join the event
Presenters
Paul A Davies, PhD, Technical Solutions Manager, Sandvik Additive Manufacturing, and Renfei Lang, Sales Development Professional, Sandvik Additive Manufacturing.
Presenting "Metal Powders by Sandvik Additive Manufacturing for Medical Applications" in collaboration with KOLN3D, September 1.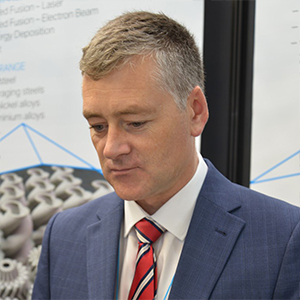 Paul Davies studied physics at Swansea University, Wales, U.K., and completed a PhD in the field of Material Science. He has five years' experience working in the steel industry in the automotive and defense sectors and has been with Sandvik for more than 15 years. He specializes in powder metallurgy, with a particular focus on Metal Injection Molding and Additive Manufacturing.